Improve Fluency. Gain Confidence. Go Farther.
Advanced English Language Coaching and Communication Training for International Professionals, Teams and Organizations Working for a Better World.
No one should feel "less than" or be held back because of communication challenges.
You are an intelligent, hardworking professional who has reached a respectable level of success in your career.
While you have acquired advanced English language skills, there are still some final communication barriers that hold you back from advancing in your career, leading teams with confidence or achieving the level of success you once enjoyed back home.
If you are an international professional who:
Feels limited or frustrated in not being able to reach your career potential

Worries you will be overlooked for higher-level positions or leadership roles

Is concerned your talents and capabilities are underutilized

Struggles with communicating your knowledge, expertise and creative ideas effectively
Feels stressed and drained in meetings because you don't feel confident when speaking or presenting in public

Spends too much time drafting emails and other forms of communication compared to your native English-speaking colleagues

Is afraid to engage or express your insights "on the fly" when asked for feedback or an assessment of a situation by a boss or manager
You've come to the right place.
Eliminate Language Barriers. Lead Teams with Confidence. Unlock Career Potential.
We are the leading provider of advanced English language coaching and communication training for international professionals in competitive fields including healthcare, human resources, government affairs, international development, international law, biotech, technology and innovation, ESG investing and NGOs.
In this diverse global market, we know "Business English" goes well beyond the needs of international corporate sales teams. With over 50 years of combined experience, our creative English language specialists are the most highly trained in the industry. We combine research-based academic training with a coaching framework to support you in reaching your communication goals.
With a proven track record of success, you can trust us to find creative solutions to the unique communication and cultural challenges you face working in competitive U.S.-based companies and organizations. Our mission is to make it easier for you to continue your good work while enjoying the process of improving your English communication skills.
Fluency Increases Efficiency, Creativity and Productivity in the Workplace.
Unlike self-directed language apps and English language programs targeting basic language learners, our fluency-focused advanced English programs incorporate a holistic and personalized approach with coaching and accountability to support you in meeting your specific fluency goals.
Whether working with a group or one-on-one, we start by listening to gain a deeper understanding of your situation, your unique needs and the goals you want to achieve.
We quickly assess and identify both the language and internal barriers that are holding you back or keeping you stuck in roles you have outgrown.
With your goals in mind, we develop a customized plan to help you go farther and achieve higher levels of success in the most efficient way possible.
We believe learning is a collaborative process that requires mutual respect, commitment and consistency. Our coaches provide a safe and welcoming environment to learn and practice your communication skills so you can focus more of your energy on creating solutions to global challenges and making the world better.
Unlock your career potential by mastering the English communication skills you need to succeed in the competitive U.S. job market.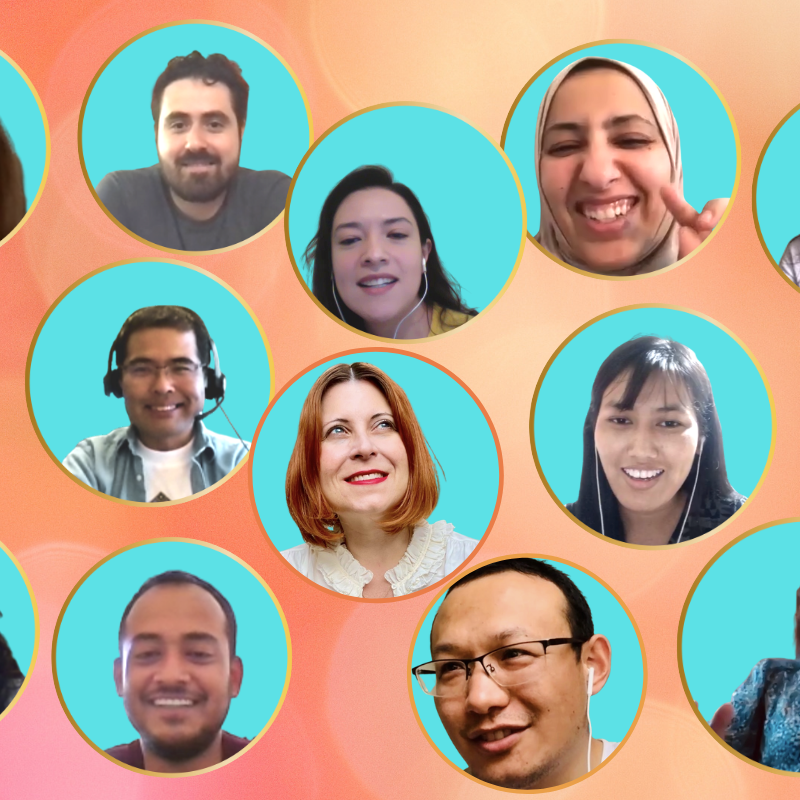 I'd heartily recommend English With Purpose for everyone from the most senior executives to students. Julie and her team will find the best fit for you, and will personalize your instruction so you get the most from every single session.

When I trusted my English learning to English with Purpose, I wanted to improve my English in a professional environment; however, I gained much more. Janna taught me how to express myself in a much more experienced, fluid, and secure way. Janna's support was critical in my admission to Harvard T.H. Chan School of Public Health. I will start an MPH this summer; I can't wait! Thank you your professionalism, experience, and good humor!

This service has been my secret. But I'm ready to share this with the open public for the welfare of all immigrants like me. After a month, I was sold completely, since the lessons were already effective in my daily work life. I can learn a better expression right away that I can use in my office - for example, you will learn tons of better professional and nuanced expressions other than "I'm sorry, I can't get it." They understand not only the language, but the culture and dynamics. You won't learn these anywhere else: "How to professionally deal with harsh/hostile comments", "How to differentiate genuine compliments among tons of auto-generated ones", or even "What to say when an intense argument is in progress and I believe I am not being treated respectfully". They know non-native speakers better than ourselves. I recommend just start it.
Working in English as a second language is hard enough.
That's why we make it easy to find a program that meets your specific needs, your timeline and your English fluency goals.

Choose a Program that Meets Your Needs
From one-to-one and group coaching to training an organization or team, choose a program that aligns with your goals, timeframe and unique needs.

Complete a Brief Questionnaire
Let us know a little about you, your team or your organization including what you would like to accomplish, your time availability and your current English communication challenges.

Improve Fluency & Go Farther
After completing a short questionnaire, if you are interested in our one-to-one or corporate training services, we will schedule a free consultation to learn more about your needs. If you are interested in one of our group coaching programs, we will guide you through the registration process and answer any questions.
Customized advanced English Communication coaching and training programs for international professionals, companies and organizations working for a better world.
Advanced English Communication Training for Global Companies, Organizations and Teams
A diverse workforce offers many benefits including new perspectives, better outcomes and innovative solutions that support your organization in reaching long-term objectives. When professionals who work in English as their second language learn how to communicate with confidence and convey their knowledge and expertise accurately, they feel more comfortable contributing, are more engaged, and lead more effectively.
We provide advanced English communication training customized to your specific field and your organization's needs and goals. With over 20 years of experience as specialists in English for Specific Purposes (ESP), we help organizations empower their team members to communicate clearly and effectively in English so your organization utilizes international talent effectively, which leads to better outcomes and greater success. Our training programs are offered online or on-site if you are in the D.C., Maryland or Virginia area.
Communication Vacation™ In-Person Workshops
In beautiful Frederick County, Maryland, less than an hour from Washington, D.C., this holistic one day retreat is for professionals and emerging leaders working in English as their second language who want to refine and elevate their public speaking skills and deliver engaging and effective presentations. Our supportive, inviting, and non-competitive program is set in a peaceful, nature-based environment to help you overcome fear of public speaking.
One-to-One Advanced Communication Coaching
The most customized advanced English coaching experience we offer, this program is designed to meet the unique needs of professionals working in English as their second language who are looking for the most effective way to:
Confidently communicate their knowledge and expertise 
Write and speak accurately and persuasively
Clearly convey concepts, ideas, and solutions "on the fly" 
Boost confidence in leading teams effectively
Feel comfortable contributing in meetings and discussions 
Create and deliver relatable and impactful speeches and presentations
Even if you work in a specialized field, our Private Online Advanced English Tutoring and Coaching sessions will ensure you reach your specific goals in the shortest amount of time possible.
One-to-One Career Coaching for International Professionals
Specifically designed for mid to high level professionals who feel limited or uncomfortable communicating their skills, expertise and experience in interviews, online or in person. During our career coaching sessions, we'll work with you to help you:
Clarify your career strategy so you know which opportunities to focus on
Develop an authentic elevator pitch that makes it easy to tell people what you do, who you serve, and how you help
Revise your LinkedIn headline and summary so it highlights your expertise and experience accurately
Create an effective resume including a profile statement, your experience and career highlights for the US market
Performance coaching and practice so you feel confident in conveying your strengths and expertise in interviews
Small Group Career Coaching for International Professionals
You're innovative, driven, qualified, and experienced. So why are you not getting more opportunities in the U.S. job market? This intensive, small group coaching program is designed for mid to high level international professionals who work in English and want to address the most common challenges in communicating their value in the least amount of time possible. We work in a small group setting to help you present your skills, experience and unique talents authentically, accurately and confidently in English so U.S. recruiters and firms focus on the value you offer.
Not Sure Which Option Is Right for You?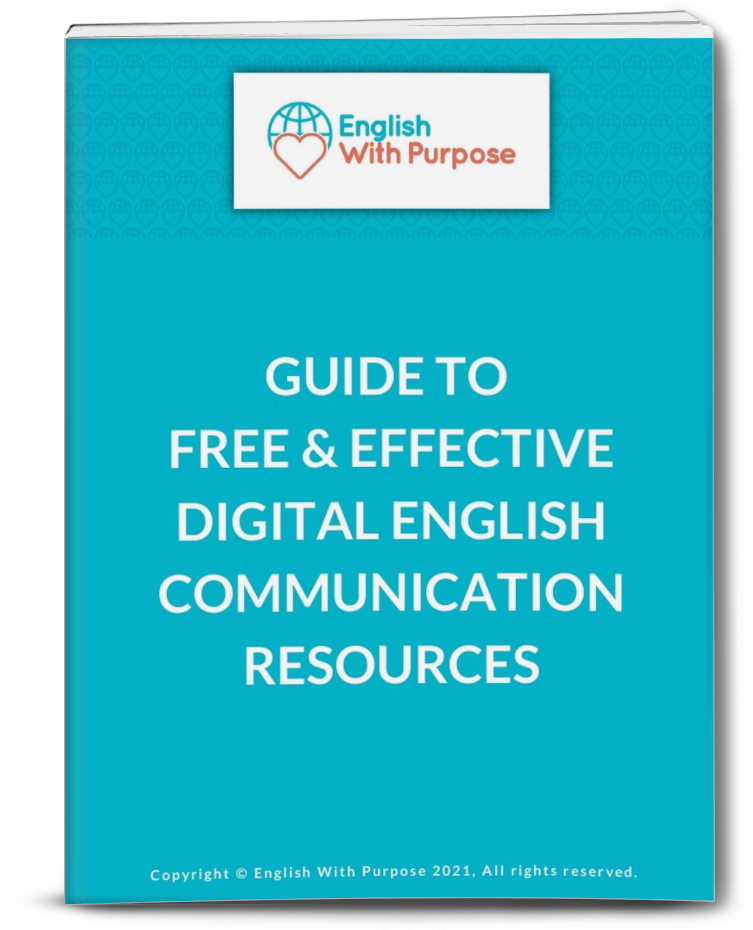 Free and Effective Digital English Communication Resources
Download our Guide to Free and Effective Digital English Communication Resources, designed specifically for international professionals who want to advance their English skills and go farther in their careers.